Wallpaper Trends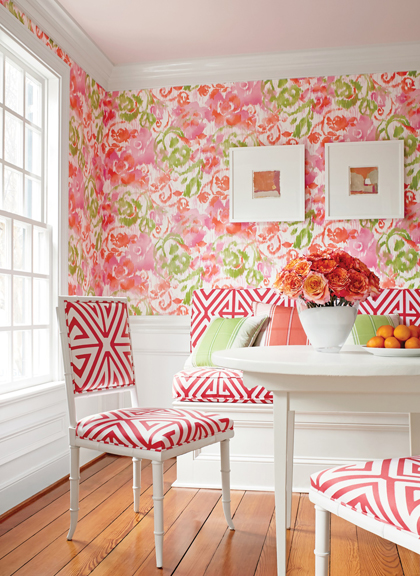 "WHAT!!!???? WALLCOVERING!!!!??  Are you kidding me?"
Lately, when design clients are approached about incorporating the use of wallpaper we seem to get the same response.  It's almost as if they are having PTSD flashbacks from the days of the "blue and mauve" paper with a coordinating border around the room.  In the 80's and early 90's paper was big and it seems as if my generation has an aversion to it based on their not-so-fond memories of the blue, mauve and fruit era.
Fortunately, for the design world paper is back, but much more refined than before. I am especially fond of Thibaut paper and want to share with you a few of my favorites.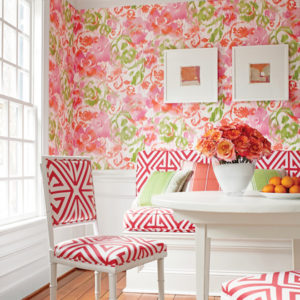 Did anyone say pink?  Thibaut's Waterford, in the color pink, displays a watercolor look that will take your breath away. Pink in any shade is HOT and this paper is a great representation of a beautiful floral watercolor paper with fun pops of coral, pink and lime. Also shown is the Demetrius Applique Woven Fabric by Thibaut applied on cane white chairs and a banquette.  Cane is also trending in "design land."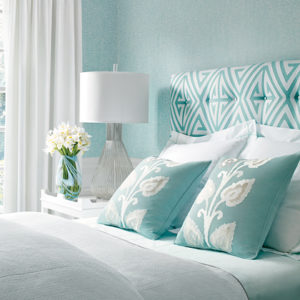 ALL shades of blue are here to stay for a long time.  That is unless you are thinking of bringing back the blue and brown combo from the late 90's and then I would tell you we need to have an intervention and GET RID OF ALL OF IT!  Seriously, the blue brown combo is just as offensive as the mauve and blue ?  However, if you are pairing any shade of blue with WHITE or CREAM then you are EN VOGUE, FRESH and up with current trends. This room just takes my breath away and I am in LOVE with the texture of the wallcovering from the Bridgehampton Collection. Again, we see Thibaut's Demetrius fabric in another fabulous color.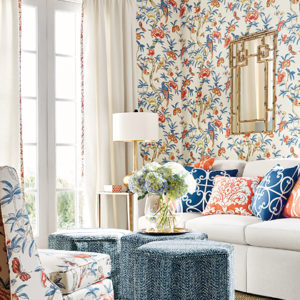 Any paper or fabric with birds is definitely going to stay around for a while.  The Giselle paper from the Garden collection presents beautiful florals, which are incorporated in this fun paper of blues, golds and coral. Two years back we predicted that blue and orange would take over the design industry and our suspicion was definitely right. Also, notice the cane mirror above the sofa. OH, and did I mention that BIRDS are HOT HOT HOT!???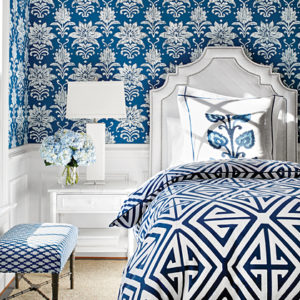 Psychologically speaking, blue lowers the blood pressure, decreases the appetite and slows down time.  So, it is no wonder that blue in ANY shade continues to stay EN VOGUE…especially in a bedroom suite. Navy blue and white are so FRESH that I predict they will be with us for several more years to come. Plus you can PAIR almost ANY COLOR with navy and white! Above, Thibaut shows their Tanglewood paper in the color navy.  Notice the fun Pagoda headboard detailed in satin nickel nail heads…it is seriously to DIE FOR! Again, the Demetrius Applique Woven Fabric in yet another color, navy, is shown.