THE CUBAN INFLUENCE
With the mending of the relationship between the US and Cuba we are noticing tropical elements to fabrics, furnishings, accessories, lighting and wallcovering. Fun pops of color, palm leaves and bamboo galore! This is going to be around for a while people…so soak it up and enjoy the vacation!
The New Les Tropi Ques Collection by Brunschwig and Fils is BOLD, Fun and has tropical elements that will make you think of enjoying a nice Pina Colada on the beach in Miami.  Palm fronds and colorful fruit give a tropical vibe with class.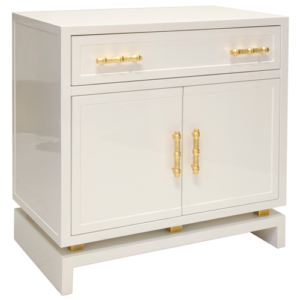 We are CRAZY about this chest and know you will be as well.  White lacquer accented with gold bamboo hardware.  This piece is seriously one of my favorites..and it comes in three colors!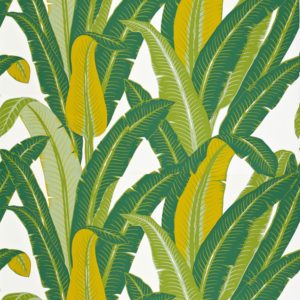 We just couldn't resist…had to show you another fun tropical fabric.  This Schumacher green, yellow and white fabric is fresh, hot and tropical 1940's.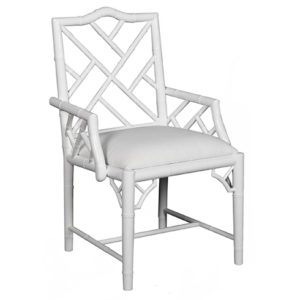 At market we were head over heels when we met the white lacquer Selemat Brighton solid Mahogany Dining Chair inspired by the classic Chippendale Chair.  It's handcrafted Bamboo look is hot this season and will be around for years as this look starts to dominate the marketplace.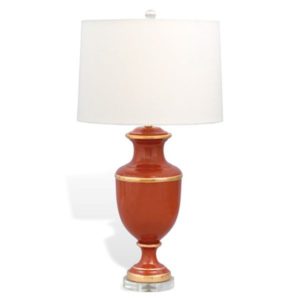 With its vivid orange color, this fun lamp by Port 68 is classic because of the gold banding, yet tropical because of its bright cheery color. Oh…by the way, it sits on a beautiful Lucite base, then topped off with a crystal ball.  And not a bad price point either.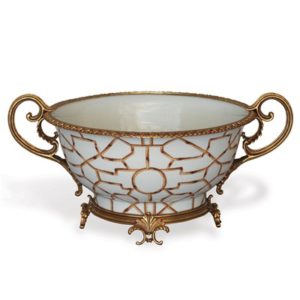 Port 68 does it again with yet another magnificent tropical piece.  We love their classic "Baldwin Bowl."  Named in honor of the famous decorator Billy Baldwin and inspired by one of his favorite Scalamandre bamboo wallpaper patterns.  They really hit a home run on this one.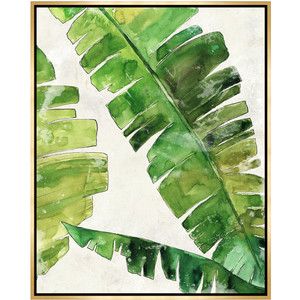 Loving this pair of Palm Frond framed prints.  Can't wait to use them on a project in Florida soon.
As you can see, we are seeing an influx of of bright color, bamboo and tropical pattern.  Can't wait to see what the market continues to bring forward as we are just now entering the "Tropical 40's."  We can guarantee that we will post again about its evolution.